THE LINEAGE OF GILES ROGERS OF VIRGINIA
1. Sir John Fitz Roger

, b. c1335; m. Elizabeth Furnenoy, daughter of Sir Simon Furnenoy, "Knight and descendent of the Earls of Bush."

Children: 1 Sir John Fitz,* b. c1386/8

2. Sir John Fitz Roger,

b. c1386/87
He was born in 1386-7 when his mother was in her 56th year, at Ashington, Somerset. In 1406, at about 19 years of age, he married Agnes de Mercaunt of Seamer, County, Suffolk . He purchased 'Benham-Valence' and other properties in Berks, and bought 'Bryanstone,' Dorset, which became the principal seats of the family. He was the entailed Lord of the vast Furneaux estates, and is alleged to have earned and received Knighthood, through recognitin of military service performed. Besides his numerous entailures, he amassed a very considerable personal property; and altogether, was the representative of one of the wealthiest families of his section of England.
He died April 10, 1441 at Bryanstone, and their quartered escutcheon was carved on the tablet of his tomb in St. Martin's Church. His will was dated 21 Sept and prov. 10 Nov., the year of his death; and afterward the prefix of 'Fitz' to the Roger name was dropped and ultimately a terminal "s" added. Because of his great riches, ability, and prominence; he has generally been accredited as the known Rogers patriarch of England, instead of his father. (ROGERS FAMILY REMEMBERED Web Site: http://.home.att.net/~bryantrogers by Bryant Rogers; e-mail: bryantrogers@worldnet.att.net)
Children: 1 Thomas,* b. 1408
3. Thomas Rogers, b. 1408
Children: 1 Thomas,* b. 1435

4. Thomas Rogers, b. 1435; m. 1483 to Catherine De Courtenay, daughter of Sir Philip and Elizabeth (Hungerford) De Courtenay, descedent of Athon, who in the 11th century fortified the town of Courtenay, France, Witkind I (King of Saxons, 769-85), Hugh Capet (King of France, 987-96), Robert II, (King of France, 996-1031), King Edward I and many Barons, Dukes, Governors, Earls, Knights, Lords and other distinguished people.

He obtained a good education at Oxford Univ, which was not far from his father's country seat in berks; and ultimately obtained considerable knowledge of the Law and located in the town of Bradford. He began the practice of law, resulting in the establishing of an honorable and distinguished career. At age 43 in 1478, under appointment by the Crown, he was created 'Serviens ad Legem,' a life office bestowed because of professional attainments and worth of character; and he became a man of great influence in his community, and amassed a considerable fortune. His title was "Sergeant-at-Law, of Bradford-on-Avon, Esq. (ROGERS FAMILY REMEMBERED Web Site: http://.home.att.net/~bryantrogers by Bryant Rogers; e-mail: bryantrogers@worldnet.att.net)

Children: 1 John,* b. 1485

5. John Rogers

, b. 1485; m. Margaret Wyatt, Daughter of Sir Henry Wyatt of Abingdon Castle, County Kent.

Children: 1 Rev. John,* b. 1507

2. William Grandson Thomas, sailed on the Mayflower

6. Rev. John Rogers, the Martyr, b. 1507, d. 14 Feb 1555; m. 1536 to Adrianna De Weyda of Antwerp.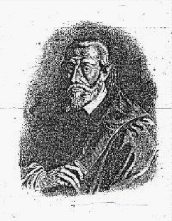 B.A., Cambridge, 1525; chosen to the Cardinals College, Oxford; took Holy Orders in the Roman Catholic Church; rector, Church of Holy Trinity the Less, 1532; called to Antwerp, Brabant, 1534; while here he was converted to the Protestent faith and translated the Bible in the English language; was made rector of St. Margaret Moyses, vicar of St. Sepulchre, and prebend of St. Pancras in the Cathedral of St. Paul, London, 1548; burned at the stake 14 Feb 1555.
John Rogers was born at Deritend soon after 1500. At Pembroke Hall, Cambridge, and later at Oxford, he absorbed the New Learning which Erasmus and Colet had fostered there. He was born too late to be under their actual tuition. For two years, till 1534, he was Vicar of Trinity the Less in the city of London.
Shortly after Sir Thomas More's arrest in 1534, Rogers went to Antwerp as chaplain to the Merchant Adventurers. Tyndale was then in Antwerp working at the Biblical translation which led to his arrest and death (1535-1536). Rogers completed and edited Tyndales's translation. It is known as the Mathew Bible ("Matthew" being Rogers under an assumed name which protected him from Tyndale's fate). This Bible, by a Royal proclamation in 1537, was to be provided for all to read, in every parish of the land.
Meanwhile Rogers had married a daughter of an Antwerp family (Adriana de Weyden). He thereby severed himself from the medieval church with its celibate priesthood and decisively threw in his lot with the Reformers. In 1537 he went to Wittenberg (where Luthers's manifesto, 20 years before, had inaugurated the Reformation). Rogers ministered as pastor to a Wittenberg congregation for eleven years. As soon as the marriage of priests was tolerated in Edward VI's reign, he returned to England. He became Vicar of St. Sepulchre's Holborn, and a prebendary of St. Paul's. As a preacher at Paul's Cross he fearelessly denounced the misappropriation of the properties accruring from the dissolution of the monasteries.
But the accession of Mary Tudor brought a sudden and far severer test of the preacher's courage and sincerity. Rogers was the first called upon to preach at St. Paul's Cross after Mary's arrival, as undoubted Queen, in London. He could have had no illusions as to the nature of the preacher's ordeal. The Privy Council under whos scrittiny he would be preaching was already "overmatched with papist bishops." When Rogers was a young cellibate priest, Bilney and Frith had been martyred. Their example had been with him for twenty years to warn him as to what a confession of the Reformation faith was likely now to involve. Ridley's imprisonment added a rather diferent warning. And he had now, as hostages to fortune, his wife and ten chidren. "There was," says a biographer, "in the whole of the Reformation, all things considered, no position where the responsibilities thrown upon one man were greater or more nobly sustained." The preacher's vocation had become that of the first martyr of the Marian persecution. He accepted the challenge: In his sermon that day he denounced what he considered to be papist errors and bore witness to the truth as he saw it through eyes that had been opened by Colet and Erasmus, by Tynbdale, Luther and Melancthon.
Rogers was summoned before the Council. His defence appears to have been that the laws of Edward VI's reign had not been repealed. He was set at liberty, only to be rearrested a few days later, in violation of the principle that forbids re-trial for the same alleged offence. He was placed under house-arrest. In December his wife and eight other women pleaded in vain for "enlargement." In January, 1554, he was imprisoned in Newgate, within a stone's throw of his own Church of St. Sepulchre. He was in Newgate for more than a year awaiting trial. During all the latter months, till the very day of his death, his wife and children were refused access to him.
The income due to him both from St. Sepulchre's and from his prebend, bad been confiscated. Somehow food and shelter had to be found for his family, and also food for himself. The latter he proposed sharing with other prisoners more destitute than himself.
Perhaps in the brief last moments when husband and wife met at Smithfield, he had made known to her the existence of this document and its whereabouts. About a hundred years ago its true copy was found, a document of paramount interest and importance.
Hooper had been tried and condemned on the same day as Rogers. They passed each other as they were being led from the scene of the trial (probably what is now the Lady Chapel of Southwark Cathedral). Hooper, looking back said: "Come brother Rogers, must we two take this matter first in hand and begin to try these faggots?" "Yes sir." replied Rogers. "By God's grace "Doubt not." returned Hooper, "but God will give us strength." Later from his cell Rogers sent a message to Hooper: "There was never little fellow better would stick to a man than he (Rogers) would stick to him."
To prevent a demonstration of the crowd the torches of the costemongers' stalls and other lights in the streets between Southwark and Newgate had to be extinguished. But the Londoners brought out candles to light the prisoner's way on that strange "bridal" procession across London Bridge. Hooper was taken from Newgate to Gloucester to be burnt at the stake near his own cathedreal. But before Hooper reached Gloucester, Rogers was burnt at Smithfield, within his own parish. As he went along the road from Newgate to Smithfield, past his own church of St. Sepulchre's, there were shouts of thanksgiving from the crowds. The French Ambassador (a Roman Catholic) wrote of Rogers that he went as one who goes to a wedding.
Bradford, soon to suffer martyrdom in the same cause, said that Rogers "broke the ice valiantly." Ridley, from prison said that his death "destroyed a lumpish heaviness in my heart."
On the Monday morning of his death, the Sheriff had shown Rogers a document promising pardon if he would recant. "That which I have preached with my lips will I seal with my blood," was the answer.
Now that the dust of bitter and mortal controversies has died down, it is possible if we look attentively, to see John Rogers in his true stature, as no one --not even Hooper himself--could have seen him before his death. The figure that emerges is of one who held the Reformers' faith with great integrity, uncorrupted by power or threat. In the penetrating spiritual exposure of those critical years, he did not waver. He died for conscience sake, and blazed the trail for the three hundred who were to follow him to the stake. He was therefore of the company of the great proto-martyrs--of Sir Thomas More, in the same century, of St. Stephen, in the first century, of our era. And like them he brings perennial encouragement to hard-pressed men and women of to-day and to-morrow in a world where the fires of different kind of persecution have been lit, and other martyrs are sealing their faith with their blood. (ROGERS FAMILY REMEMBERED Web Site: http://.home.att.net/~bryantrogers by Bryant Rogers; e-mail: bryantrogers@worldnet.att.net)
Children: 1 Bernard, b. 1543
7. Bernard Rogers, b. 1543; d. 1583; m. 1564 to __________.
Children: 1 Thomas Matthew,* b. 1565, England
8. Thomas Matthew Rogers, b. 1565, England; d. 1610; m. c1586 to "Miss" McMurdock, b. c1567
Children: 1 Thomas*, b. c. 11 Jun 1587
9. Thomas Rogers, b. c. 11 Jun 1587; d. 12 Nov 1638; m. Grace Makin
Children: 1 John,* b. c1609/10, Warwick, England
10. John Rogers, b. c1609/10, Warwick, England; d. c1680, Co. Worcestershire, England; m. c1641 to Lucy Iverson, b. c1612, ?Scotland. John settled in Edinburgh, Scotland.
Children: 1 Giles,* b. c1643, Edinburgh, Scotland
11. Giles Rogers, see following genealogy.